The Science of this process:
Equipment is NOMINALLY rated at AHRI conditions,
just like new cars have MPG stickers on them. It does not mean you will get that.
You MUST adjust your choice to where you live and to the conditions you PICKED in your load calculation. ACCA calls this method their " Manual S ".

(Some States require this design step now for code compliance. It should always be used anyway, especially when high accuracy and accountability are required. Very few contractors bothered with this, because they considered it a difficult or useless process.)
WHY IS IT IMPORTANT?
BECAUSE A "3 TON UNIT" MIGHT DELIVER 4 TONS IN WISCONSIN, 2 TONS IN MIAMI, OR EVEN 5 TONS IF THE HUMIDITY TARGET IS 65% !
But in cases where there will not be an objection to the average 2.31% average error in results, Off-theCharts offers no fumbling around with product data book numbers! AHRI already tested the machines, just use their accurate numbers and let your computer do the math.
WHY HAVE WE BEEN DOING THIS PROCESS BACKWARDS UP TO NOW?
Use "Off-the-Charts" to do it quickly.

The built in proprietary formulas in OFF THE CHARTS project the values from the selected AHRI rating with LOW error! (Don't you think 2.31% is low?)

AND HOW ACCURATE DO YOU THINK THE CHARTS OF PRODUCT DATA ARE, ESPECIALLY AFTER ALL THE FUDGING AND CONFUSION PEOPLE HAVE WITH THOSE?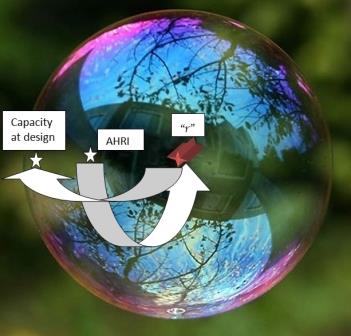 The math is complex but not bogus.
We found any AHRI value might be extrapolated back to a constant, "r", (which might represent near zero entropy output). This is done by our four new formulas working on outside air, indoor DB, WB, and indoor CFM. But like the bubble illustrated above (changing a value by the four x,y,z, and line curve dimensions), the new design conditions can then be applied to the formulas in reverse to bring us to the new stated capacity values!
(Please check Compliance Page for ICC, AHRI, ACCA info.)